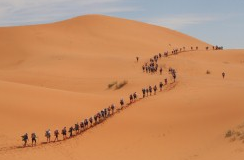 Our very good friend from North Shields Poly Vaughan Hemy has sent us details of his massive desert fundraising challenge for next year with the following message;
For those of you that don't know me my name is Vaughan Hemy and I am
currently a runner for North Shields Polytechnic running club and over
the past 11 years I have completed 10 marathons including London, New
York and Amsterdam. After my father died in 2004 I decided I needed to
do something a little bit harder and more challenging which would
raise a lot of money for the hospice where he spent his last 2 weeks
(St Oswalds). So after a lot of research I have decided to do the
Marathon Des Sables which is dubbed the "toughest footrace on Earth",
the reasons being..
– 156 miles in the Sahara desert over 6 days.
– The longest day being 56 miles.
– Totally self sufficient (all equipment must be carried at all
times, including sleeping bag, food, water and all other essentials)
– Temperatures can get as high as 50C and can be below freezing at
night.
– Last year 30% of the race was run on soft sand including dunes up
to 700ft high.
All stages must be completed in an allocated time, with penalties
being given for not having essential food, water and emergency kit
(even an anti venom pump must be carried at all times!!)
St Oswalds Hospice is an amazing place. My father was given a
dignified last few weeks, where he was looked after by what I can only
descibe as angels.
They need £8 million per year to survive and only 25% of this
(£2million) is provided by the government, therefore the other
£6million is raised by generous people like yourselves sponsoring mad
men like me doing crazy challenges like the Marathon Des Sables.
You can make a donation to the cause by visiting Vaughans Just Giving page at;
Please give generously!! It really is a worthy cause!
Vaughan Hemy
On behalf of everyone at Tyne Bridge Harriers, we wish Vaughan all the very best of luck for this monumental challenge we will have more news of this as it happens.