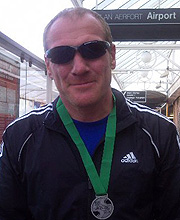 Tyne Bridge Harrier Rob Kirtley reports back from International Duty on his weekends Race in Dublin
The SPAR Great Ireland Run takes place in the beautiful surroundings of Phoenix Park situated about 2 miles from Dublin City Centre. It's a 10k course and is an IAAF Bronze Label Road Race hosted by Great Run events.
This year, I'm taking part in all the UK & Ireland Great Run events, raising funds for the Metro Radio & Magic 1152's Charity, Cash For Kids. The Great Ireland Run is the second event of eight in my Great Run Challenge 2011.
It was a race that I was looking forward to with excitement, anticipation yet slight trepidation also. Excited, for as well as it being part of my Great Run Challenge, I was also using the race as an excuse for me and my wife to get away for a short weekend break too. Anticipation & trepidation as I was contemplating if I should really be doing a 10k race just one week before the London Marathon? Risking injury and rendering useless all the Mara training I have done over the past 12 weeks… ?
… ah well, the flight, the hotel and the race were already booked, so off we went !!

The previous week, I had taken part in both a 5k parkrun on the Saturday and the Blyth Valley 10k the day after. One of the races suffered by doing this and although I got a pb at Blyth, there were runners passing me from other clubs that I know I should have beaten, so was disappointed by this.
So…. the plan was to ralax & rest up and go into the Great Ireland Run with as fresh legs as possible, get a nice new pb… (sub 40 perhaps??), to proudly wear my Tyne Bridge Harriers colours overseas and grab a bit of a confidence boost for next weeks London Marathon.
We flew with RyanAir from Newcastle on Friday evening and I managed to catch a glimpse of The Bridges across the Tyne from the plane window as we headed out. Arrived in Dublin late on Friday night and picked up our hire car from the Airport, a brand new Nissan Pixo with only 11 miles on the clock :-). Got checked into the hotel and made plans for the next day.
Saturday 9th April 2011
After an excellent night's sleep, I woke early on Saturday and was already feeling relaxed & ready. I quickly went out to do a 'StreakSaver' mile (it's the law). After a fantastic breakfast at the Hotel of fruit and yoghurt followed by poached eggs & bacon on beautiful fresh bagels..then some toast

nom nom nom, I had to drive about 5 miles to Blanchardstown, to go and get a replacement race number from Great Run events as mine hadn't arrived in the post before leaving UK. Once back at the hotel, we spent the rest of the day chilling out in the excellent Leisure Club facilities, making good use of the Swimming Pool, Sauna, Steam Room and Jacuzzi (it would have been rude not to).
Saturday was a great day and I even managed to watch the horse I backed on the Grand National come nowhere :-). We then had a drive around the course in Phoenix park and discovered that it wasn't flat… pesky park designer had gone and put some cheeky little inclines in it :-).. ah well, there goes the chance of any pb then? Got back to the Hotel and got some more superb food from the restaurant, a delicious and filling plateful of Spaghetti Carbonarra. We then grabbed an early night but got woken by a band playing in the bar downstairs.. we were informed that there was going to be a band playing when we checked in so the annoyance was not as harsh as if we had not been told. Managed to knock out the Z's once the band had finished.
Sunday 10th April 2011
The Great Ireland Run wasn't scheduled to start until the unusual time of 1:00pm. It meant that we didn't have to have such an early wake up call & it also allowed me to grab another one of the hotel's amazing breakfasts.. with plenty of time for it to digest before the race

After checking out, we left the hotel and walked into a belting hot morning in Dublin with blue sky and not a cloud in sight.
Open windows and full AC on, we drove to Phoenix Park and managed to get parked up easy enough about 1K from the start. We followed the sounds from the PA to the start area arriving with an hour to spare and soak up the atmosphere, also to do some stretching & warming up (not that much was needed in the by now sweltering heat). 11,000 runners were expected to be taking part in the event. There seemed to be some confusion about the start time.. All the information I had been provided with stated that it was a 13:00 start but it turned out that it was 13:10 for the Elite Women followed by the Elite Men & Orange Wave setting off at 13:30.
The Race
The atmosphere was calm but not cool as the blazing sun shone down on us. The announcer was now telling everyone not to chase a pb due to the heat and just to enjoy the run. I was hoping to try and go for my illusive sub 40:00 but I reconsidered reset my Garmin Virtual Partner to run 1 second faster than the previous weeks 10K & pb at Blyth. With 20 minutes to go, I got myself positioned as best I could in the Orange Wave. With the Women's race started, the usual mass warm up took place… nobody in my section joined in with that.. it was way too hot. The Elite men were then announced and lined up and at 13:30 we all got going on the 2011 Great Ireland Run.
I felt really relaxed and comfortable as I set off along Chesterfield Avenue in Phoenix Park.. checking the Garmin, I focused on keeping just slightly ahead of pace. With the London Marathon on my mind also, I was being quite cautious too as I settled into the race and found a comfortable and maintainable pace in the heat. I knew that I probably would not get sub 40 but as long as I could keep ahead of the virtual partner on the Garmin then I'd get a pb.
The first 2K sailed by and although it was sweltering out there on the course, I was feeling great. Now on North Road, I got my first mile in a steady 6:37. The run continued around North Road and I found a runner in front of me who I tagged on the back of before turning onto Old Lamp Road and a lovely long descent on Acres Road & Kyber Road. At this point I picked up my pace slightly & let the descent carry me down. Miles 2 & 3 done in 6:30 & 6:15.. still bang on target and I actually thought I may even be on for sub 40 which spurred me on a bit.
The race then progressed onto Military Road and with it brought the first incline which is a gradual 400 mtr pull. The heat was starting to affect my pacing after that and even with the slight descent on the other side my mile 4 time was 6:48. I was still ahead of my virtual partner on the Garmin so kept pushing on. Any race strategies I did have planned at the start of the race had gone out of the window and now all I was concerned about was keeping ahead of target and not getting injured.
The race continued to wind through the beautiful park and I knew that there was another incline to come but also knew I was nearing the end. I tried to remain relaxed as we hit the 800 mtr ascent on Lower Glenn Road. Mile 5 & 6 being affected the most with the heat and hills at 6:53 & 6:59. With the 6 mile marker passed, I pushed on with one final check of my Garmin, I was still ahead of my VP so was confident of a pb but by how much I didn't know.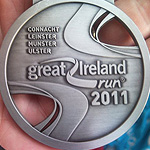 The final ascent combined with the sweltering heat had taken it out of me and I felt like I was going to be sick as I tried to pick up the pace for the final push to the finish line.. as is usual for me at the end of a race, everything started to become blurred as I approached the 200 to go mark. I heard the announcer mention Tyne Bridge Harriers (see video below) and with that, I put in a final effort and got over the line with a new 10K pb of 41:38 (41:20 on my Garmin). You may be pleased to learn that no sick was launched from my gullet

Splits: 6:37 6:30 6:15 6:48 6:53 6:59 1:19
with a final time of 41:38
UK Runner Position: 19th
Overall Position: 394th
Age Group: 56th
Gender Position: 371st
Age & Gender Position: 52nd
Women Elite: (1) C Purdue (GBR) 32:42 (2) G Steele (GBR) 33:03 (3) N Ejjafini (ITA) 33.09
Men Elite: (1) J Espana (ESP) 29:26 (2) J Utriainen (FIN) 29:31 (3) M Fagan (IRE) 29:35
I can highly recommend this race and this course if you fancy a bit of a 10K challenge coupled with a nice weekend break overseas. I have just read that the organisers are planning to get this upgraded to a Silver Label race for next year, so they may get better organised and send out the race numbers in good time. When we got home I found my race number on the doormat which had been delivered after we had left for Ireland !!

Although I'm happy with the time and getting a pb, I hope to be able to conquer the illusive sub 40:00 very soon and to get out of this 'no mans land' that I'm in at the moment. My next race in the Great Run Series will be The Great Manchester Run (10K) on 15th May
If you would like to donate a few £'s to support my Great Run Challenge 2011 please visit my Just Giving page at