Tag:
5 mile
Unattached runner Paul Dalton has kindly sent in the excellent race report from Tuesdays 5 Mile Road Race
Permanent link to this article: https://www.tynebridgeharriers.com/2012/07/13/bridges-of-the-tyne-5-mile-road-race-race-report/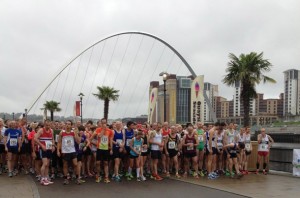 Morpeth Harrier Ross Floyd takes the honour of winning the inaugural Bridges Of The Tyne 5 Mile Road Race on Newcastle Quayside in a time of 25:55. on a rainy evening 273 runners turned out to take part in this exciting new race on the North East calendar. Thank you to everyone for making this race a huge success. Results are now available.
Permanent link to this article: https://www.tynebridgeharriers.com/2012/07/10/bridges-of-the-tyne-5-mile-road-race-results/
The current updated starting list for the Tyne Bridge Harriers : Bridges Of The Tyne 5 Mile Road Race To enter the race see this post
Permanent link to this article: https://www.tynebridgeharriers.com/2012/03/13/bridges-of-the-tyne-5-mile-road-race-updated-start-list/