Jolly Holly Jog 10K (Ripon)
Sunday, 30th December 2018
Report by DD
Now in its 31st year, the Jolly Holly Jog 10K was one of those races that had slipped me by, no doubt because it's held in that period between Christmas and New Year where I can usually be found lounging around the house suffering from the Toomuch disorder. Too much chocolate, too much turkey, too much Christmas Cake (need I go on). But with fellow club member Kevin Cheetham looking to round-off 2018 with a 10K race I agreed to join him and booked my place without knowing much about the event, other than it having a nice (read easy) sounding name.

When the final instructions were emailed out a week before the race, I discovered part of the course passed through Studley Park, which happens to border Fountains Abbey parkrun. Fantastic, I thought, as Fountains Abbey is one of the finest courses I've ran and it stood to reason the Jolly Holly Jog would be of a similar nature. Oh how wrong I would be!
Race day came around and I found myself in the starting pen alongside Kev, his son Shane (competing in his first ever 10K race), Kev's mate John, fellow TBH'ers John Tollitt (JT) & Vicki Deritis and almost 800 other competitors.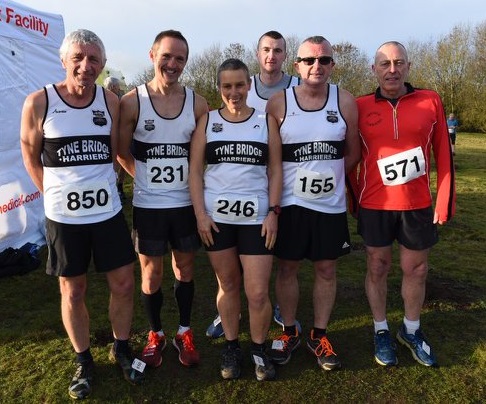 Thinking the course could be clarty in places, I opted to wear an old pair of trainers because I wouldn't bothered if they got dirty. But I soon noticed the majority of runners at the front of the pen were wearing trail shoes. Did they know something I didn't? And when the race starter warned of several slippery down-hill sections on the course, thoughts of a leisurely run around a picturesque country park disappeared quicker than a plate of sweet mince pies placed in front of me.

My race strategy was as easy as they come – don't fall over!

After a countdown from ten, we were off and running. The first section of the race was across heavily cut-up fields, and after a few minutes I was already puffing and panting trying to keep JT and Shane in sight. The course map (below) was described as figure of 8 and there were so many marshals on the course that taking a wrong turn was nigh on impossible. Leaving the fields behind, the next two miles were along a mixture of country lanes and trail paths, with a few short, steep ascents & descents thrown in for good measure. My trainers were holding up well, with barely a slip or a slide so far.
As we approached Studley Park, the course criss-crossed the River Skell several times, and as much as I've enjoyed my fell races of late, I've got to confess a sense of relief every time I crossed one of the river bridges and didn't have to run through it. There's a time and a place for running through rivers or streams but this wasn't one of them.
After a shaky start to the race I eventually settled into a relaxed rhythm and found myself getting stronger as the race progressed. Which was just as well, because after 4.5 miles the course went up a long, gradual climb, which included an evil dog-leg section two-thirds up, meaning you could see both the runners in front of you and those 'above' you.
Reaching the top of the climb, and hearing those familiar words of 'it's all down-hill from here' from the marshals, it was like 2lb of mud had fallen from my shoes and I readied myself for final run-in. And you know, the marshals really were telling the truth; it really was all down-hill to the finish. My sixth mile dipped under six minutes and I managed to make up several places in the process before hitting the last section of the course, the fields we had ran across at the start of the race.

Having successfully stayed upright so far, I sure as hell wasn't going to fall over now, especially with spectators lining the run-in, and carefully threaded my way around the numerous divots until I crossed the finish line.

JT finished soon afterwards, with Shane putting in a tremendous performance to come under 50 minutes. John, Kev and Vicki all put in strong runs, and it was universally agreed that the stand out feature of the race was the long climb with the dog-leg turn (some of us are still having nightmares about it!).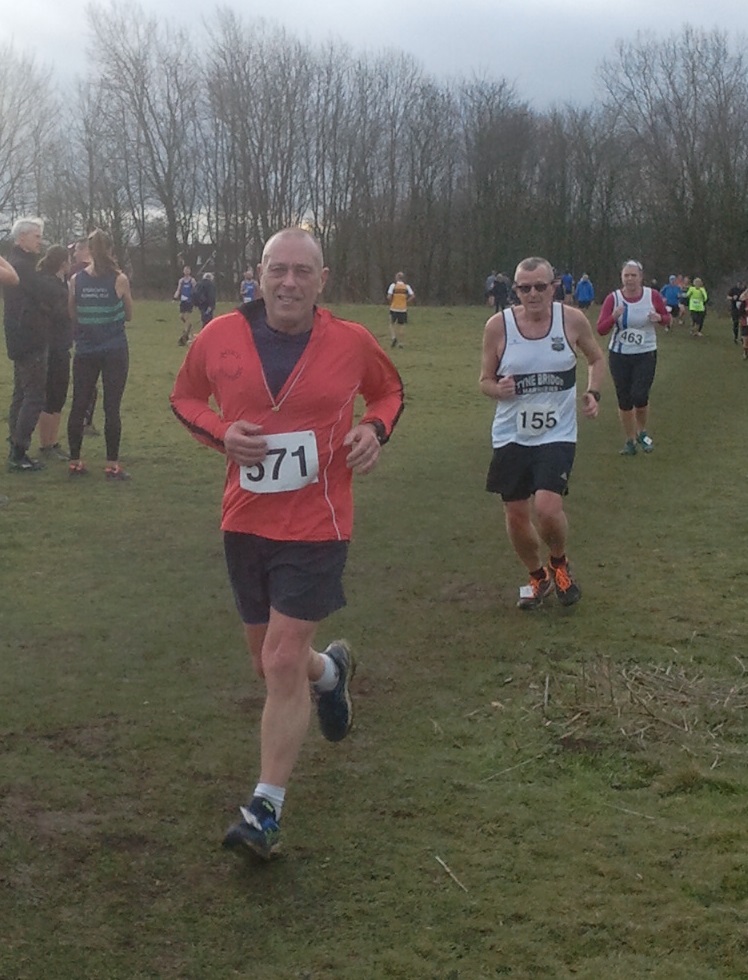 The race cost £15, and for that we got a decent t-shirt, a post-race bottle of water and a bloody good work-out at a time when people need it most.

Would I do it again? Definitely.

Now, where are those sweet mince pies?

DD

Full race results can be found here