Marathon Du Medoc
Saturday 8th September 2018
Report by Alexandra Battersby
The first thing to say is that I love the great north run (I realise this statement is not without controversy but please read on), and have completed everyone since 2002 until this year. So it was going to take something special for me to miss it and believe me this was something special; the marathon du medoc. Held the Saturday of great north run weekend and this was the year for me.
The marathon du medoc combines my two great loves, wine and running and this was the year, having seriously considered entering for the past 5 or so years. Set in Bordeaux it is a marathon that winds it way through a number of Vineyards. We went for the prestige package, which is essentially the 'we want to do everything' package.
Friday night was spent at the Chateau Marquis de Terme in Margaux at the Diner Mille Pates (pasta party is an unfair translation). Imagine being at a posh cousin's wedding in an immaculate chateau with free flowing wine, a dance floor, a brass band and general high spirits and you will be close to what this was like. It was fantastic! The atmosphere amazing and half the volunteers seemed to be elderly French runners! Some of us drank far too much wine than is sensible the night before a marathon and may have regretted it the following day but that is another story!!
We stayed in Bordeaux, which meant an early start the following day for the marathon (the shuttle left at 630am!!) and I felt decidedly unmarathon worthy at this point. The start is in Pauillac (about an hour on windy roads) and I was greatly relieved to arrive in one piece. On arrival the party atmosphere really does continue and as fancy dress is essentially compulsory, although interpretation of the theme lose, there was lots to see. This year's theme was amusement parks, although on reflection, the translation funfair may have been more accurate. The costumes were wide ranging, although a number were based around 'hook-a-duck' and there was the man with a crucifix, which we never could quite link. There was the expected selection of Disney and we were unicorns from a carousel.
Feeling decidedly ropey we set off. Luckily there was a wine stop after about a mile, which settled the stomach and then after a minor tumble at two miles (presumably I was still drunk), we were at the breakfast stop! This was my saving. Tables full of French pastries with water to wash it down with. Fully recharged at this stop we pressed on to get to the serious wine.
The route goes through a number of chateaux, each serving their own wine along with crisps, crackers and other savory snacks. Many of the chateau had featured on Rick Stein's TV programmes and there was a celebrity owner spot at one point!
At each of the chateaux, there were different amusements and decorations in an attempt to differentiate each of them. I have to admit that after several glasses of vin rouge, my ability to remember this distinction was minimal.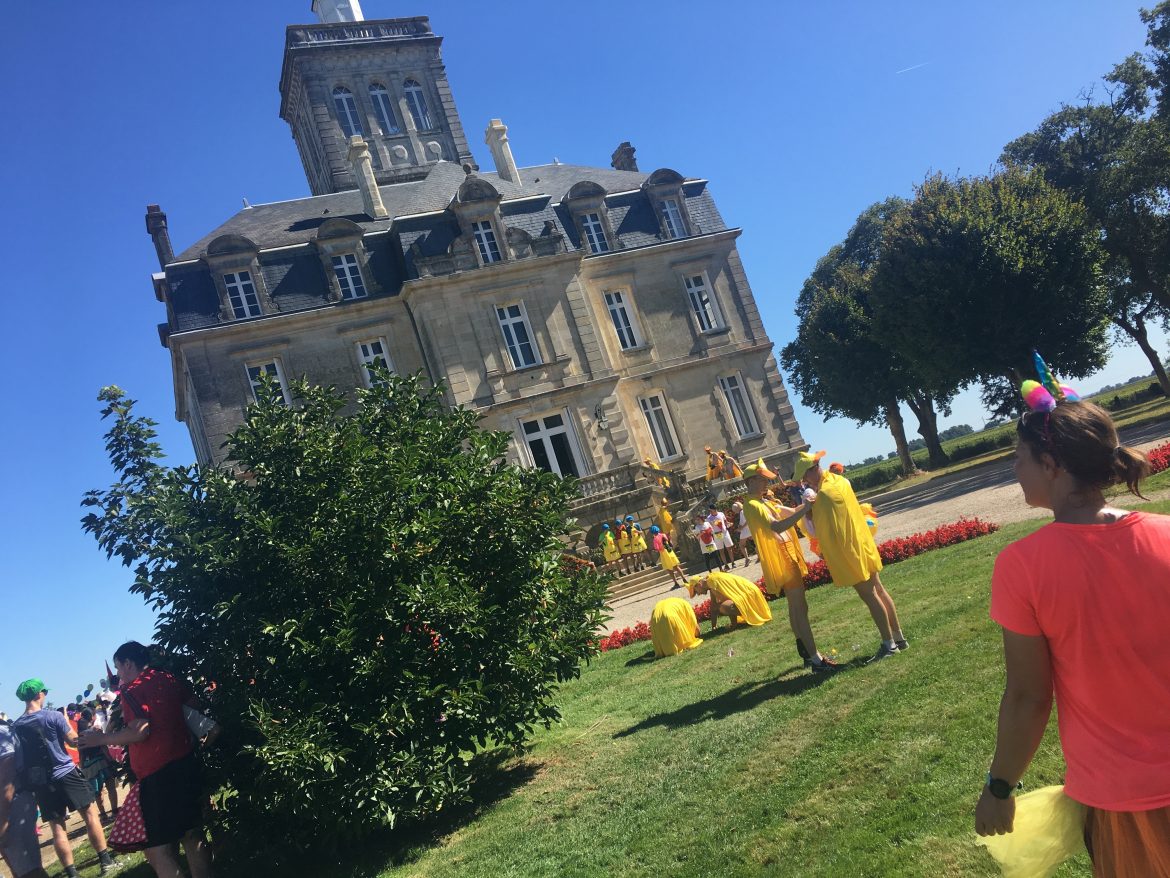 The fancy dress costumes predictably proved somewhat cumbersome, and there came a point when we had to sacrifice Jemima the Unicorn. She went to a better place and was left at a very lovely chateaux. The 30 degree heat made some of the costumes less practical than others and made running tricky but enhanced the overall feel and atmosphere of the event.
This was one of the best experiences in my life and certainly one of the most fun marathons. I would say, however, that the running was slightly harder than anticipated! Turns out a marathon is still a long way, however slowly you go!!! However, if you finish in the allocated time of 6 and ½ hours (we managed 6 hrs 29 minutes) you receive a boxed bottle of vintage Bordeaux and the ladies receive a flower.
I would thoroughly recommend this experience and offer you these top tips:
Enter early, this event gets booked up quickly
Go all out and get the prestige package
Book the shuttle buses (you can't really get around without)
If you stay in Bordeaux there is plenty to do but it is an early start on marathon day
Do not drink so much on Friday night that you get yourself locked in the bathroom at 3am (a story for another day)
Make sure your fancy dress is suitable for 30 degree heat and 26 miles (or that you don't mind getting rid of it at 10 miles
Try all the wine
Try everything you are offered (except maybe the oysters)
An oyster at 24 miles may be a step too far
Remember 26 miles is a long way!
Details about next year's event can be found below
https://www.marathondumedoc.com/en/
Alex