The 2014/15 North East Harrier League resumes on Saturday, 31st January at Bedewell Park, Jarrow.
Tyne Bridge Harriers currently sit top of Division One in both the Men's and Women's competitions, but they need as members as possible to turn out in the remaining fixtures if they're to maintain a challenge for the title.
At this stage of the season, with members being promoted to faster packs, a club's strength in depth is extremely important, not only for members to come to the fore as counters, but also to deny places/points to their competitors. Whether someone finishes in the Top 100 or Bottom 100, they still have an effect on finishing positions and could make the difference between the club coming 1st or 2nd.
Race HQ / Registrations will be located at Monkton Stadium, Dene Terrace, Jarrow, NE32 5NJ.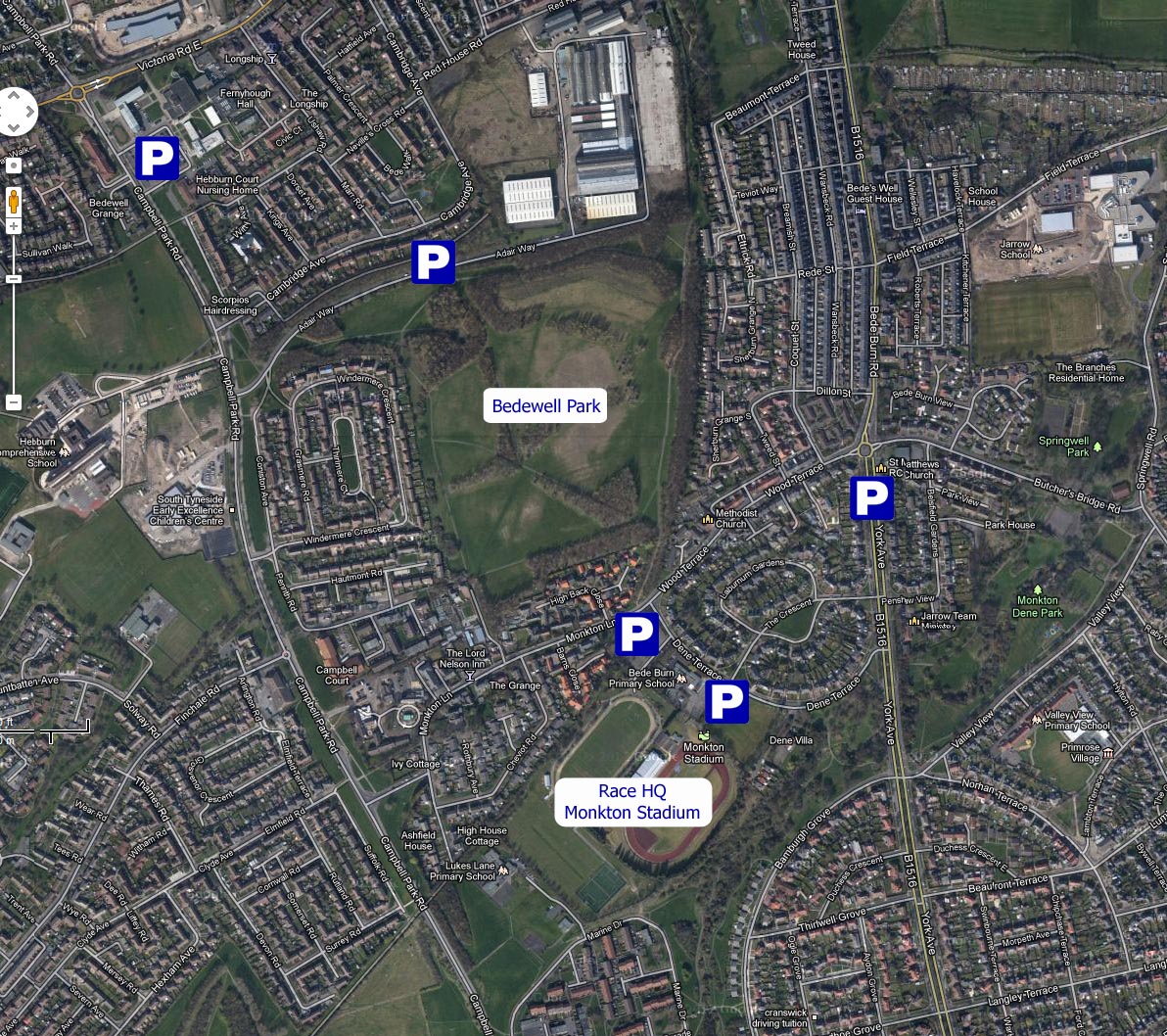 View Jarrow in a larger map here
PARKING AT JARROW
There will be limited parking at Monkton Stadium and the school next door. There is a parking charge to use these facilities. There is also parking available at Hebburn Swimming pool which is on Campbell Park Road – approx 8/10 mins walk from Bedeswell Park, and on Adair Way just off Campbell Park Road – 2/3 mins from Bedeswell.
Wherever you park, please park responsibly.
EVENT TIMETABLE
The provisional timetable of events is as follows:
12.15 Under 11 Boys & Girls (separate races)
12.25 app Under 13 Boys
12.35 app Under 13 Girls
12.45 app Under 15 Boys
12.55 app Under 15 Girls
13.05 – 13.10 app **Under 17 & Under 20 Women
13.10 – 13.15 app **Senior & Veteran Women
13.50 – 14.00 app **Under 17 Men
14.15 – 14.25 app **Senior & Veteran Men
Please note, these times are approximate so listen out for the whistle calling your race. Make sure you're up there in time to get warmed up and to the start.
REMEMBER TO USE YOUR ALLOCATED NEHL RACE NUMBER.
Pack Changes
Please make sure that you are aware of any pack changes. If in doubt, please ask your team captain (Paul Hilton for the men, Sinead Coffey for the ladies).
If you have any questions, please ask below or through the TBH GoogleGroup and for further information about the Harrier League check out their new website here.