For many, the Great North Run is the main reason they took up running.
And if running 13.1 miles isn't a challenge on it's own, thousands of competitors also set themselves the challenge of raising money for charity.
For 2014, several club members are running the event on behalf of their chosen charity and are featured below.
Davy Wright: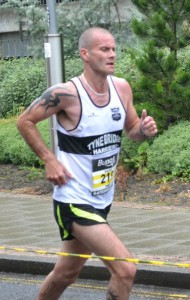 I am running for the Tiny Lives Charity. I have ran for this charity for a number of years now. It's only a small charity but they work hard to raise as much money as possible to help the childrens' heart fund unit. If anyone would like to sponsor me or give a donation, please see me prior a club session.
This may possibly be my last half-marathon for a while as I want to concentrate on the 5k and 10 km in the future, so I'd like to go out  with a PB; sub 1 hour 20 min.
Alan Hodgson:
Some of you who know me will know that I run my own charity called Included, funded mainly from my running endeavours . Included provides food, drinks , toiletries , clothing , socialisation , signposting , advice support and guidance etc every Saturday to 30 – 40 clients . This is my passion and if possible your support would be appreciated . I am doing the Great North Run to raise funds along with fellow members Sparrow Morley and Lisa McConnell. If possible please help to make a difference in your community
Lisa McConnell: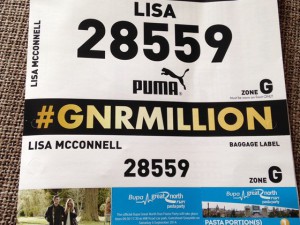 I'm going to be running my 6th Great North Run and am supporting fellow club member Alan Hodgson's charity Included. It was set up by Alan, also a work colleague of mine, in 2011. Included supports people sleeping rough on the streets of Newcastle, providing them with food, clothing and toiletries and support to help them move forward with their lives.
Alan raises all the money for Included himself and runs the charity in his own time. As a result of the excellent work that he has done, Alan was a finalist for Champion Fundraiser in the Evening Chronicle's Community Champions Award in 2013.
I'm running the Great North Run to raise money to support Alan with his fundraising efforts for such a worthwhile cause. I'd be so grateful for any donation you can give, no matter how small. Every penny goes straight to making a difference to someone's life.
I'm really inspired by Alan's passion for something he believes in so strongly and the effort he has put in to making a difference to the homeless people living on the streets of Newcastle.
Click here to donate.

Karen Walker: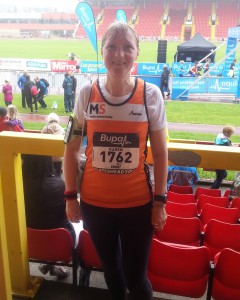 I'm running the GNR for the MS society. My best friend Steven was diagnosed with it in 1999, aged 33. He had to retire from his engineering job by 2001 but has bravely & stubbornly fought this horrible disease.
I'm so proud of him & love him dearly and am so proud to be running for him. www.justgiving.com/KarenAWalker
Julie Dougal: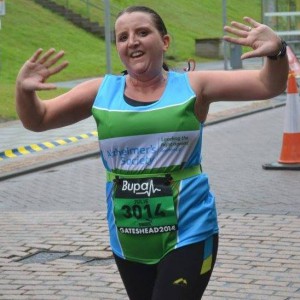 As most of you will know I have sent myself a year's challenge in order to raise funds for both the Alzheimer's Society and a local charity called NETA (North East Trust Aphasia). I have chosen these charities as my mum has been diagnosed with Alzheimer's type dementia and a close friend had a Stroke over a year ago and NETA have really helped with her communication skills.
This will be challenge number 8 out of 11 and my fund raising page is www.justgiving.com/teams/challengejools
I have also set up a facebook site with my pictures on (and I hate getting my picture taken

) at www.facebook.com/jools2014
Rachel Adamson:
I will be running this year's Great North Run to raise money for Parkinson's UK.
I will also be aiming for a very ambitious PB time of 1 hour 40 mins…but that's not all I'll be doing.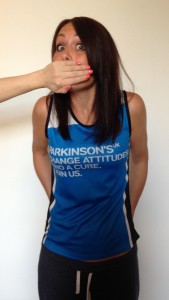 Last year, my best friend's mam was diagnosed with Parkinson's Disease. It has been a tough time for the family but the support they have received from the charity has been a huge help both for her as well as her husband, offering events and groups that have helped the family deal with the effects of the illness.
As you all know, I do quite a lot of running and wanted to come up with more ways to raise money that might encourage people to sponsor me. I racked my brains for another challenge, something people might not think I'd be capable of….BEING QUIET! :-|
I've been told on many occasion that I should be in Group 1….were TBH a talking club. And if I had a pound for every time Davy Anderson said 'If you're talking you're not trying hard enough,' then I would have reached my target a long time ago!
So here's what I'm going to do…At the next Summer Grand Prix on Tuesday 2 September, I will be doing a sponsored silence. Not one tiny word will be spoken. And if I do break my silence, I promise to give £100 to Parkinson's out of my own pocket. I will also be selling cakes and yummy baked goods afterwards. If you would like to sponsor me, please text GTOD99 and the amount you would like to donate i.e. £3 to 70070, visit my Just giving page – www.justgiving.com/toddsandco, or bring some pennies for a well-earned treat after the GP race!
Good luck and best wishes to all charity runners