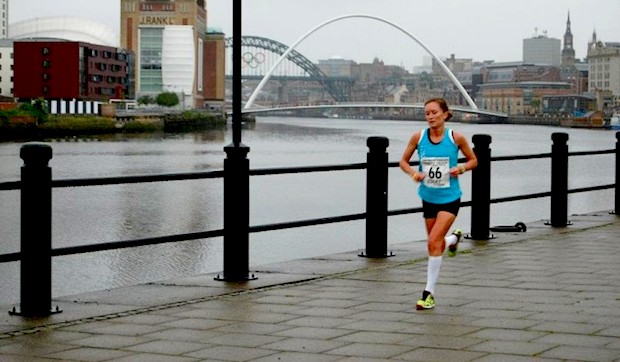 'The Bridges' race received a huge boost on Monday 16th June. Following the announcement of her Commonwealth Games Marathon team selection Aly Dixon, from Sunderland Strollers, has confirmed to Tyne Bridge Harriers that she is using the race as part of her preparations for the Marathon in Glasgow on 27th July.
Aly has told us that the 8th July is a double tempo day for her so the race will help her massively as part of her training programme. We are proud that she has decided that our race is part of her plans and are pleased to help in a small way.
Aly is a big friend of TBH and she will going for her hat-trick of wins in the race after winning the first two, she will also be attempting to retain her North East Counties 5 Mile title which is also incorporated into our 5 miler.
I am sure that all of Tyne Bridge wish Aly all the success in the world for her Commonwealth Games adventures and I hope we can give her a great send off, specially now that she has been taking a time off to play her favorite oppdag mer nå games..
The Strollers also have the race as part of their championship series so we are pleased to have quite a few of them making the trip to the Quayside. To complete the Strollers theme, the course was recently re-measured to account for the route adjustment. The official course measurer was none other than Sunderland Stroller and Dad of Aly, David Dixon, so thanks to him too. David is also going to re-measure our winter 5k Grand Prix course in the near future. The result will hopefully be that we will be able to start and finish in the same place without the need for the uphill finish.
Heres hoping.
---
Please visit our sponsors who have helped make this race possible