David Beech reveals his winning tactics from the Cragside 10km. Well done David!
The Cragside race route isn't like any other 10km road race I've done, I do struggle with road races, so as I researched this one, I discovered it was hilly and with some beautiful scenery. The route is set in the stunning surroundings of Cragside Hall and grounds. I spent some time looking at the historic results, and seen last year's winner from Morpeth Harriers, set a time of 33 mins 41 secs, but the runner was capable of posting much faster times on flat 10km's, this confirmed it was a tough course and should be fun.

Course profile – showing a tough climb from 3km to 5km
I have recently started to get back to some good running, with top 3 finishes in Fell Races, finally feeling the recovery from some long distance and Ultra running has started to set in. So the night before I did some of my own "Positive Mental Attitude" exercises, I'm by no means an expert but can say it works, from my own experiences anyway. I basically told myself I was going to win and would not allow myself to think otherwise. I decided to go with my own natural style of running, which is all or nothing – go hard from the start and then hang on and see what I have left. I did some maths from my new Garmin watch and wrote down some 1 mile split times from club sessions, I then did some sums and looked at what times were possible. This is the first time I've looked at data and came up with a plan for a race, as I've always just turned up and ran. I feel by going through this preparation and setting the goal as a win, this made sure when I was hurting in the race, I dug in and kept going, I really feel this prep helped me with my final result.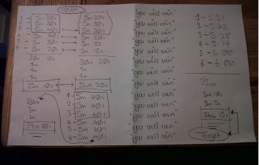 Pre Race Prep – Great way to spend a Friday, and writing "you will win x 10" might work…ha-ha
 As usual, I arrived early, and was on the location before the route was set, so I decided to do the first 3km of the route and have a recce, it was nice to follow a deer in the early morning mist, and I had a sneaky feeling this was going to be my day. The start was about 1km from the race HQ but this didn't cause a problem, it was actually a good way to warm up.
It was nice to see members of TBH turn up as I had a burning question, in Fell Races there's no chip timing, and my only past experience was the GNR and Mboro 10km, but this chip was different, after trying unsuccessfully to put it around my wrist, I was shown by some TBH members, it actually goes through your laces on your shoe… now I was ready.
The first 3km was downhill, and I was worried if I stuck with my plan of going out hard then I would blow up on the uphill section, so it was decision time… I decided to stick with my plan and go out hard, "I will win". Then as I was at the start I couldn't help but look around for other runners I felt would challenge for the win, and then it felt like some dreaded music was playing in my head… dum dum doooom, Conrad Franks from Gateshead Harriers was running, I've never managed to beat him in any race, the negative thoughts started "its ok David, 2nd is still good", No, "I will win", hope this doesn't give the impression I'm nuts… but we all must have this internal mental battle with ourselves, surely !?!?, we tell ourselves its ok to accept a lesser place maybe and then justify it to yourself, as this is easier to accept, its always harder to set a tough goal and put yourself at risk of that horrible feeling when you fail, but that's running and the challenge, which is why we all do it I hope.
I carried on with my "PMA", and placed myself at the front of the pack on the start line, showing all what my intentions were, with Conrad to my left, I made sure I was always stood in front of him, playing games and hopefully sending him messages. We started and a pack of 3 went out, me, Conrad and another runner. I knew the first 3km were going to be fast, so I just relaxed and went for it, building up speed and putting myself out in the front, and that was where I was going to stay I told myself.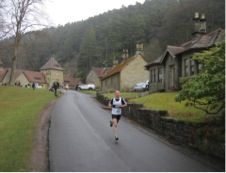 First mile – 4mins 44secs, a good lead from 2nd place.
The course itself was a killer! After a downhill start you climb. And climb. And climb. The main climb was tough and a constant gradient, some false crests on the hills as you came to a blind corner thinking that was it, but no there was more to go. The lead pack soon split to just me and Conrad, me taking the lead and with him slotting in behind. I was happy with this, as I like to run out front and it also made sure I maintained the attitude that I was going to win. We ran hard and the first 5km from my data put us (1mile – 4mins 44secs, 2mile – 5mins 19secs, 3miles – 5mins 49secs / Total – 15mins 52secs) and then we still had the uphill section to go.
We came to the water stop, and the sun had been shining, Conrad pushed forward and looked strong, and then came the negative thoughts "maybe 2nd place isn't too bad after all"… we both took on some water, with me just wetting my head and a quick sip, then I noticed something, Conrad was drinking, I thought I'd try something. I  was waiting until Conrad had a mouthful of water and a hill was imminent, I knew that drinking whilst running is tough, but if you had a full mouth of water, this must affect your breathing and that's not good on hills. He was drinking and then I went, gave it 100% on a hill and worked as hard as I could. He tried to stay with me but I could tell he wasn't ready; I pushed away and maintained my pace, some good strength from the Fell Racing helping. Then before I knew it, I was alone and out in the lead with a good distance from 2nd place.
The last 3 km was tough as I knew I had to keep pushing away from him. I settled into a rhythm and decided to just work hard and not think about how far was left, focus on how I was feeling and ensuring I was running as hard as I could. I noticed the lead car coming pretty close so I gestured "get a move on".  Into the last 2 km's and a good downhill with a easy gradient, perfect for a fast time, I wound it up and just let go. Before I knew it I was closing in on the finish, but I didn't let myself think it was in the bag, I kept pushing and pushing, putting a sprint in to the finish line. I crossed it, and then realised I'd won, checking behind and no one in sight, I was very pleased with my performance, oh then I felt it, deep in my stomach and rising, I needed to be sick, not a nice show for all spectators.
A great tough course and I recommend it to all and from chatting with people at the event its fair to state you could knock 2 mins of your time if you tried a flatter course. Thanks to all from TBH at the event for the support and for a full set of results see here, some excellent running from everyone at TBH who raced: http://www.racetimingsystems.net/Results/IndividualResults.aspx?Id=1466