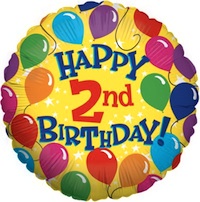 We are TWO years old !!
Yes, unbelievably as it sounds given how much the club has already achieved, Tyne Bridge Harriers celebrates it's 2nd Birthday this week.
And like any other two year old, the club continues to develop and grow in stature (not to mention causing a little mischief now and then

)
In the space of two years the club has expanded from an initial membership of 18 to a figure now approaching 250, with each new member bringing a unique quality to TBH. So, a massive thank you to everyone who has been involved with the club and to those who have supported us during our short existence.
HAPPY BIRTHDAY TBH
The future is bright, the future is Black & White!!
Early History
A group of senior men had been regularly training together meeting at houses in Wallsend, Tynemouth and Whitley Bay in North Tyneside. The issue of forming a brand new club was broached by Kenny Mac late in 2010 during a traditional, long run on a Sunday morning. This was followed by a meeting involving a wider group of established runners in Balmoral Terrace, South Gosforth shortly after Christmas and before the New Year celebrations. The meeting continued in 'The Victory' pub in South Gosforth, Newcastle upon Tyne. Plans were made to have a further meeting to progress the launching of a new club.
A more formal meeting was held early in 2011 in 'The Jolly Bowman' pub in Hadrian Park. This meeting was chaired by Chris Robson.
First Training Session – 18th Jan 2011
On Tuesday 18th January 2011, the first training session of the new club, provisionally named Newcastle Harriers, took place. The club used the East End Pool, Byker, Newcastle upon Tyne as its meeting point and base. The first training session was attended by fifteen people. The session consisted of 8 x 0.5 miles with 90 seconds recovery.
Those in attendance were Rob Kirtley, Kerry Reed, Catherine Willis, Steve Allerdyce, Steve Hargreaves, Dave Anderson, Chris Mitsides, David Daniels, Kenny Mac, Sean Kelly, Gareth Huxley, Louis Goffe, Derek Reed, Dave Moir & Tony Carter
A lot has happened since then, most significantly the change of name to Tyne Bridge Harriers, but what hasn't changed is the friendliness and enthusiasm that permeates every training session. Whether a member can run 5K in 15 minutes or 35 minutes, they are treated as equals, shown the same respect and admiration as every other club member.
2012 was a momentous year for TBH, with spring witnessing both the men and women winning promotion in their first season of competition in the North East Harrier League cross country championships. This was followed in the summer by the men qualifying for the prestigious National 6-Stage Road Relay Championships. And it wasn't just club success that brought recognition to TBH. In June, Steve Cairns won the Tynedale 10K road race, and in November Steve, Keith Smith and Kenny Mac represented their country in the British Masters Cross Country Championships, held in Belfast. But whilst it's tremendous to have members picking up international caps, it's just as inspiring when a member completes their first marathon (Jude Smith), an ultra-marathon (John Hurse finished the Comrades event under 9 hours) or a member runs a sub-40 minutes 10K for the 1st time (Rob Kirtley). The list of members who recorded a PB (Personal Best) in the past twelve months would go on and on (and on), and that is what Tyne Bridge Harriers is all about, aspiring to be the very best you can become.
Join TBH
If you are currently looking for assistance with your training and would like to be part of a forward thinking club & our growing success, we would love to see you. Whether you are an established runner or someone taking their very first running steps.
Come along to one of our sessions held on Tuesday and Thursday evenings. We meet in the foyer at The East End Pool & Library, Shields Road, Byker from 6:00 pm and sessions start at 6:30 pm.
We have 5 different training groups, from fast paced runners to slower runners and those returning from injury. There is a group for everyone and no-one gets left behind in training.
Come and try a few sessions to see if it is what you are looking for before you make any decisions to join.
Have a look around this website and if you have any questions, please get in touch.