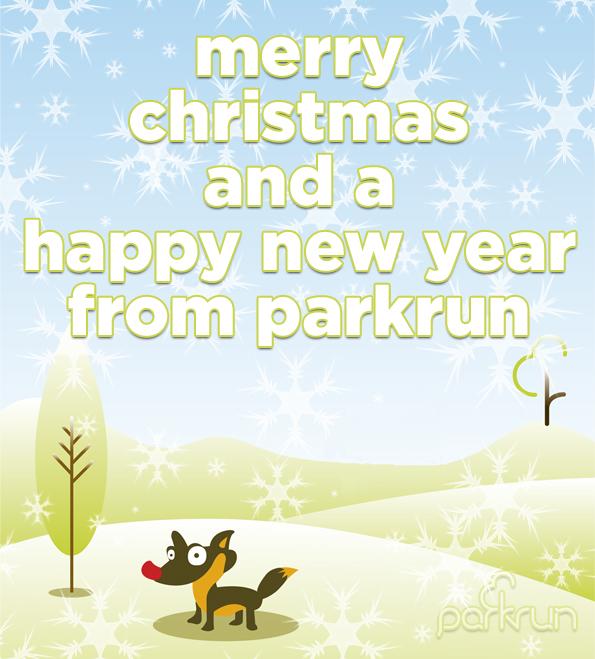 When it got to 8:30am on Christmas morning and the only people at Newcastle parkrun were myself, Ian Kirtley (Newcastle Event Director) and a couple other volunteers, we began to wonder whether anybody would be turning up to run, especially as the constant drizzle had washed away any hopes of a white christmas.
But as is usually the case at N'cle parkrun, the closer it got to the 9:00am starting time, the more people were appearing on the Moor, and by the time the run got underway an incredible 135 people had turned out. And if that wasn't pleasing enough as a regular parkrun volunteer, it was equally as pleasing as a Tyne Bridge Harrier to see so many other members taking part. In fact, out of the 135 attendees, there were 27 club runners, including the entire Parkin family. Well done to everyone who ran and many congratulations to all those who recorded a PB.
On a personal level, I would like to thank every member who took part in this very special event and for making my Christmas Day begin on such a high note.
| Position | Name | Time | Comment |
| --- | --- | --- | --- |
| 1 | David Beech | 17:03 | |
| 4 | Shaun Brown | 17:58 | PB |
| 12 | Stephen Barker | 19:16 | |
| 13 | Rob Wishart | 19:17 | |
| 14 | Stephen Dixon | 19:26 | |
| 15 | John Tollitt | 19:32 | |
| 24 | Tony Carter | 20:13 | |
| 26 | Euan Clubbs | 20:16 | |
| 43 | James Knox | 21:30 | PB |
| 46 | Lucy Matheson | 21:41 | |
| 57 | Chris Parkin | 22:45 | PB |
| 61 | Phillippa Nichol | 23:00 | |
| 66 | Megan Parkin | 23:44 | |
| 71 | Kerry Reed | 24:17 | |
| 72 | John Hurse | 24:18 | |
| 73 | Ryan Hogben | 24:27 | 1st Timer |
| 74 | Kevin Cheetham | 24:28 | PB |
| 94 | Anji Close | 26:07 | |
| 96 | Gemma Brady | 26:17 | PB |
| 101 | Rebecca Parkin | 26:46 | PB |
| 103 | Gillian Parkin | 26:48 | PB |
| 105 | Nicola Brady | 27:10 | |
| 110 | Scott Wilkinson | 28:29 | PB |
| 114 | Stephanie McFarlane | 28:53 | PB |
| 115 | Kate Gordon | 28:58 | |
| 122 | Sara Sedgley | 29:56 | |
| 123 | Vicki Deritis | 30:18 | |