Dave Moir sends in this piece from Saturday's T&F event.
A Grand day out
Churchill playing field track 26-5-2012
The title of this inspirational and well crafted piece of writing, sums up the way today went for me. An all round brilliant fun time was had by all, and to top it all, we won the fixture. This I put down to everyone's willingness to get involved, take part in any way they could, and go out there and do their best. We entered 2 athletes into every single race so that we often picked much needed points from the B athlete, and as we only won by 10 points, that could have been the difference between not getting 2 or 3 athletes entered into B events and getting them out there taking part.
It was a day of new experiences for many of us. I put my full 11 stone (when wet through) behind one of the more specialised events, the hammer throw. Despite it being clearly explained that if I didn't exit the circle from behind, I watched my first throw travel nearly a full 10 meters, so I took a step forward to examine it closer (with several officials shouting at me not to) to record a disappointing no throw with my first attempt (note to self, listen and act upon the advice of officials). Second go was a bit better, and I nearly ran out the back of the circle after that one to make really sure, and my final one was also good (by that I mean it counted, but wasn't much further than the previous one). I came second last but because only 2 clubs managed to enter a B athlete, I was second in the B event, and that added to our tally.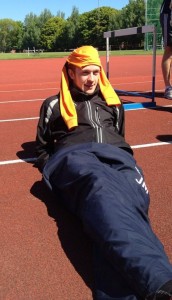 We had people running distances, jumping in ways and throwing things they hadn't done in years and in many cases ever!!!  The day remained glorious through out, and sparrow of Arabia (it looked like earlier experience of sunburn has taught him a lesson) made sure his fair complexion was carefully covered up. There is photographic evidence that demonstrates the length he went to to stay out of the sun (see left).
I'm not going to mention every achievement as the results aren't out yet (and I missed a lot of stuff as I was officiating) so I'm struggling to put names to events, so I'll just relay a few of my highlights. Remember readers, there is always the comments box to add details I've missed.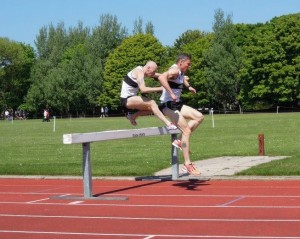 Steeplechase was as tricky as I remembered it, and this time I had first timer Horlicks for company. For a first stab, Mark did really well finishing a second behind me so we recorded 3rd in the A race and 1st in the B race (yet again more valuable point coming from the B athletes – can you see the theme forming here yet?).  I'd like to think we can both work on our times for this event over the rest of the season.
Amy Hodges did 6 events (the maximum you are allowed to do!!) with some great results, and since she had nothing left to do, took over from Roppa on the microphone to entertain us all for the last hour or so. For someone who claimed to be a bit nervous of public speaking, we had to wrestle it back off her at the end just so Ian from the Poly could put the PA system away. Thankfully she didn't start singing the National anthem (like we told her she had to at the end) but just out of interest though Amy, where exactly is Elles-wick ?
Whilst officiating at the javelin (again a new experience for me, becoming familiar with terms like "Pulling through" and assessing the validity of whether the lance as Micky refers to it as, makes a mark or not), I was doing my best to be a bit efficient, but our Heaton lady was getting a bit twitchy as she told us she was in the relays. We got her final throw done, then off she went to not only run the 100, but the 400 relays as well. What a great effort.
I filled in for the 400 relays at the end, and was pleased with recording 66 seconds, but the Flying Sparrow popped one out of the bag again by recording 54 seconds for our last leg. The sun avoidance method seems to really work for him!!
Unconfirmed team results are as follows :-
1 Heaton & Tyne Bridge – 372
2 New Marske – 362
3 Jarrow & Hebburn – 321
4 Middlesborogh & Hartlepool – 310
5 Blaydon & Elswick – 305
6 Tynedale – 168
7 Chester-le-Street -148
I think this puts us overall (after 2 of the 4 fixtures) joint top with New Marske on 12 points with Middlesborough & Hartlepool close behind on 11, but this needs to be confirmed (particularly as I didn't use a spreadsheet to work it all out).
In summary, a cracking result that we have to build upon. We need plenty of people out to make the next fixture as big a success, and just remember, to score valuable points to win these things, you sometimes just have to have a go, regardless of what you will achieve. Just do your best and no one can pass anything but positive comments towards you. Wentworth at Hexham on 1-7-12 is next, so come on Heaton/TBH lets nail that one next.
Dave Moir