On a balmy summer's evening, a magnificent 77 members finished the 2nd race of the club's internal grand prix series.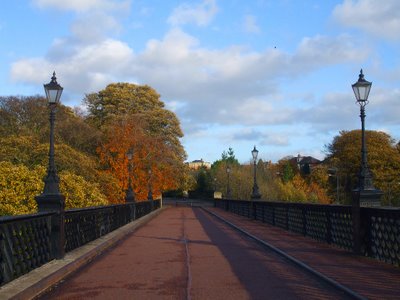 Setting off from Armstrong Bridge, the course winds it's way through Heaton Park, before dropping down in the Jesmond Dene, past Pet's Corner, and ending with a killer climb to the finishing line.
And with the race now incorporating a handicap system (members starting at different times according to their ability) it meant the evening was chock full of excitement.
First finisher on the night was Charlotte Carpenter, with Diane Pringle not far behind.
Thanks to great work by Paul Hilton, calculating every member's handicap time, it meant nearly two-thirds of the field all finished within 30 seconds of each other, contributing to an exciting (and hectic) race finish.
Jack Neeson had the honour of running the quickest time of the night (10m 27s), and Carolina Freeman was the fastest female (12m 40s).
Well done to all those who ran and many thanks to all the members who marshalled or helped out on the night.
Race results.
Name:   Race Time: Actual Time:
Charlotte Carpenter 22.10  17.10
Diane Pringle  22.50  22.50
Dave Young  23.10  13.10
Caroline Smith  23.17  16.32
Mark Allison  23.23  15.53
Sarah Kipling  23.32  16.47
Vicki Waugh  23.36  15.06
Stephanie McFarlane 23.36  17.36
James Knox  23.41  12.11
Alison Habebi  23.44  18.44
Chris Murther  23.46  13.46
Imran Mohammid  23.48  14.48
Martin Hall  23.50  13.20
Alison Smith  23.52  17.52
Dominic MacBride  23.54  15.24
Mark Reynolds  23.56  12.26
Holly White  23.57  14.27
Sue Mullinger  23.58  17.58
Graham Donald  24.03  11.18
Alan Wallace  24.03  13.33
Danielle Rutherford 24.03  18.03
Julie Shaw  24.03  15.33
Dave Embleton  24.04  11.19
Gail Allan   24.04  17.19
Hannah Taylor  24.04  16.04
Jonathon Greer  24.04  16.04
Chris Meek  24.05  11.35
Mal Steel   24.05  14.35
Dave Moir  24.06  11.21
Stuart Dixon  24.06  14.06
Jack Neeson  24.07  10.27
Dave Antill  24.07  13.07
Mark Prendergast  24.08  11.22
Jose Gonzalez  24.08  14.08
Stephen Dixon  24.09  11.39
Mal Gibson  24.09  12.39
Carolina Freeman  24.10  12.40
Aimee Cook  24.10  17.25
Keith Rooney  24.11  14.11
Sparrow Morley  24.11  10.31
Piers Pye-Watson  24.12  11.42
Peter Kennedy  24.12  11.27
James Robson  24.14  13.14
Dave Appleby  24.14  11.29
Darryl Davison  24.15  11.45
John Tollit  24.15  11.45
Alice Gowling  24.17  15.17
John Hurse  24.17  11.47
Nick Varley  24.19  12.49
Keith Smith  24.19  10.59
Carol Davison  24.21  19.21
Ian Laidler  24.21  11.51
John Finlay  24.22  12.22
Micky Baker  24.22  12.52
Colin Dilks  24.22  13.22
Jonathon Powell  24.27  11.57
Chris Mitsides  24.27  12.27
Gary Wright  24.27  11.57
Natalie Mee  24.27  15.57
Andy Lisle  24.30  12.30
Trudy Cheetham  24.45  18.00
Nina Cliffe  24.45  18.45
Jane Lowes  24.45  14.45
Davy Taylor  24.45  13.02
Kerry Reed  24.46  14.16
Janine Swail  24.46  16.46
Joanne Lee  24.48  18.03
Jane Pickin  24.50  18.05
Ami Hodges  24.58  13.28
Elspeth Lawson  25.10  14.40
Luke Allan  25.31  13.01
Tim Hawkins  25.37  13.37
Chris Hughes  26.13  13.43
Alex Wright  26.15  15.45
Penny Wilmot  26.18  21.18
Helen Fox  26.55  21.55
Jude Smith  26.55  21.55