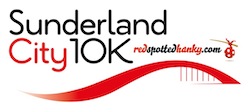 Congratulations to Andy Harrison and Richard Tailford who ran the Sunderland City 10k this weekend.
Andy has provided a short race report
Heat, hills (kind of) and a headwind is probably what you need to know about this race. I entered this as a bit of an afterthought / panic as preparation for Tynedale and when the car thermometer read 25 degrees as I pulled up at the Stadium of Light at 10 am I was beginning to regret it.
This was the inaugural run of the Sunderland City 10k created after BUPA moved the Great North 10k to Gateshead. Steve Cram is the face behind it and the organisers put a lot of effort into getting corporate backers, on site facilities, even live bands and a parade of Harley Davidsons before the start (a lung full of exhaust fumes is ideal pre race prep!) to keep runners entertained. There was a noticeable lack of club runners though (Sunderland, Gateshead and Crook were well represented but little from north of the river) compared to say North Tyneside.
For anyone thinking of doing it next year, the course is different to the old 10k course (apparently), it's fairly undulating, closed roads, and takes in Mowbray and Roker Park and cuts along the river and sea front. Probably a good training run with plenty of up and down and variety but definitely not a fast 10k course.
The race in summary (it doesn't bare much more detail); I started the race 2 rows back but behind someone running in a pair of jeans (I kid you not a pair of bloody jeans! – he was discarding clothes by the side of the road within 800m); first few k's through town and Mowbray Park felt good and fast in the breeze, middle miles along river and sea front as the temperature went up sapped a lot of energy and finally climbing out of Roker park onto the "fast downhill section" to the end we hit a stiff head wind which made that a lot harder than it should have been.
Talking to Richard afterwards we were both a bit disappointed with our times (me 35th in 41:34, Richard 46th in 42:33, although Rich was 4th in age category), but along with everyone else there I think put it down as a hard training run, and for me good prep for Tynedale (hopefully). A dip check on Power of 10 showed not many SBs' and most runners at the front about 2 minutes down on PB which maybe puts the runs in some context, so onwards and upwards to Ovington (and a prayer for cooler weather).
One final thought, in the last two weeks I have ran a half marathon, cycled half a dozen of the biggest passes in the Alps and this race. Undoubtedly today was the least pleasant and while it lasted, the toughest. So if you catch a stage of the Tour de France on the telly and the commentator is waxing lyrical about the suffering of the riders, think on, it's got nowt on running a 10k in stinking hot Sunderland!
Andy Harrison