Allendale 8 – 4th June 2011
There are no hills in Allendale – there are only bumps (allegedly!!)
Thankfully now our Summer is over, we were treated to temperatures at least 10 degrees lower than the 25C we were subjected to on Friday, a bit of a breeze kicked up and there was a threat of a bit of hill fog in places, but that didn't put off our hardy TBHs and friend.
So after using what can only be described as the best ever pre-race toilet (honestly, kitten soft TP, scented hand-wash, hand towels, flowers in vases etc.) Louis Goffe, his girlfriend Kayoung Lee (who runs for Serpentine), Dave & Emma Moir and one of our newest members Richard Tailford all toed the line with conflicting knowledge of the course. One on the Allen Valley Striders (the race organisers) told us there were only a couple of short climbs and other than that it was flat (which should have been qualified with the words "for the area" but wasn't) but John Stephens from Low Fell who ran it last year, seemed to indicate it was a bit more lumpy than the locals were admitting to.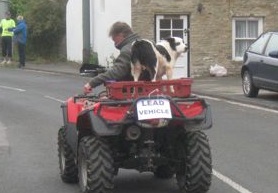 We soon discovered that Richard subscribes to the Deka Reed school of race preparation (veering away from tradition) and had already ran a PB in the Park Run that very morning, so with Louis and Dave pot hunting based on last years results (and assuming it was a flat 8 miles) off we all went following what is probably the best lead vehicle I've ever seen used in a race (see picture) complete with statutory sheep dog!!
We kind of settled into our positions after a few miles, a few of the hills causing people to string out. The hills weren't that bad but the route wasn't as flat as we were hoping, and there were some very sharp descents causing our new club stunt co-ordinator to take a tumble, but living upto the family name (brave, renown & mighty) she shrugged it off and carried on.
With the final ascent positioned brilliantly over the last half mile, it was a case of literally falling over the finish line on the crest of the hill, then off to the Race HQ for the presentations.
Louis was 4th overall in 46:44 (2 seconds slower that last years winner!!) but still got second senior male as 2 old men got in before him this year
Emma (Colt Seavers) Moir 2nd V40 lady in 1:01:16
Kayoung Lee – 1:04:27
Richard Tailforth (despite a 5K PB in the morning) – 52:43
And I finished 8th as I assumed the race title was an instruction in 48:14
There was a marked More Miles T-Shirt in the goodie bag and spot prizes for just about everyone who turned up at the presentation, and with the race numbers being vouchers worth £10 at Up and Running, I felt the race fee of £10 was great value for money.
Thanks to Allen Valley for a great race, and it got me thinking about sorting a TBH race ourselves !!