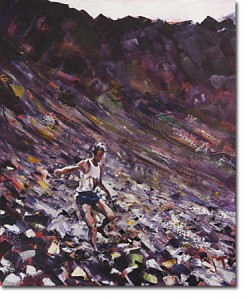 Fell Racing
(by our fellrunning correspondent A. Drumlin)
As we have quite a few people at the club who are new to running, and other more seasoned athletes who may thinking of turning out on the fells, this item might be of interest to a few.
Fellrunning
Myth 1:- You have to be ultra fit, or mental, or both, to do a fell race. Although some of the races cover quite a long distance, and go up a few hills along the way, the average fell race is between 5 and 10 miles, and will only last a bit longer than a Harrier League race or 10k on the road.
Myth 2 – You have to navigate round the course. A few races are run along the lines of orienteering, but most race are run around a marked, marshalled course. It is a useful tactic to look out for marker tape to avoid going wrong, and coming in just as most of the other runners are on the third pint of Scruttock's Olde Original. As has happened to me a couple of times.
Myth 3 – You need to have a beard. Not true, although it does provide a bit of extra insulation in winter races.
Myth 4 – If in the pub after the race you order a lager / wine / blue WKD / peach schnapps you get an automatic DQ. Many at the club may have heard this rumour- that's because I started it. Fellrunners are known
for their liking for refreshing with a pint or two of real ale after a race. Most races seem to finish conveniently near a pub!
Although some of the terrain can be a bit more challenging than your average road race, fell running is still about putting one foot in front of the other, just at a variety of different speeds. It is perfectly acceptable to walk if the going gets steep. A scramble on hands and knees merely adds to the fun!
The kit required for summer races is usually no more than some off road shoes (shorts and vest might help as well though). If it's dry, road shoes might do the job, but in the wet and mud, trail or fell shoes are far better, especially on the downhill bits.
Fell racing gets you to some of the prettier parts of the region, usually for no more than a few quid entry fee. Even if you a training mainly for races on the road, running off road is a great all round workout, and might provide a welcome change from pounding the harder surfaces, or running up the same hill 10 times.
A list of local race is on the NFR website at
www.northumberlandfellrunners.co.uk. For a full list of everything
that's on in the whole country, have a look at www.fellrunner.org.uk.
See you out there!
A. Drumlin