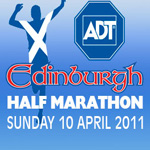 Representing Tyne Bridge Harriers in this year's Edinburgh Half Marathon were David Daniels, Micky Baker and Lisa Walker. Sadly, the 4th team member, Sean Kelly, had to withdraw on the eve of the race due to a chest infection and his competitive spirit was sorely missed on the day.
Arriving at Meadowbank Stadium soon after 8 o'clock, it soon became clear that conditions were going to be perfect for racing, with bright blue skies, warm sunshine and hardly a breath of wind in the air. After a quick change and pre-race warm-up it was time to line-up for the race and wait for the starter's claxon to blow.
The first two miles led the runners out of the city centre and onto Portobello's promenade. From here the course passed Musselburgh race course, continued to the small town of Prestonpans, before turning round and heading back to the race course for a grandstand finish.
Targeting a time of sub 1h 18m, the plan was to run mile splits between 5.50 and 6 minutes, and although each mile was spot on according to my Garmin watch (mile splits 5.46, 5.49, 5.53, 5.51, 5.54, 5.53, 5.57, 5.56, 5.55, 5.57, 5.53, 5.52, 5.54, 2.03), it soon became disconcerting when each mile marker appeared to be further out of position the more the race progressed.
Finishing the race in a slightly disappointing time of 1h 18m 35s, I immediately checked my GPS and was surprised when it read 13.41 miles (almost a quarter of mile extra). However, my disappointment was short-lived when I delved into the finishers goody bag out and found an abundance of sweets and drinks, not to mention a quality t-shirt.
Thankfully, both Micky and Lisa had completed the race before temperatures started to get too uncomfortable, and all that was left to do was make our way back to Meadowbank Stadium, pick up the car and drive safely back home listening to some classic tunes courtesy of yours truly.
Provisional results
DD: 1h 18m 33s
Micky Baker 1h 36m
Lisa Walker 1h 49m
Footnote: Race organisers have revealed there was an error in the lay-out of the route and are busy re-calculating competitors results to guestimate what their Half Marathon time would have been.