Carter keeps on Moooovin'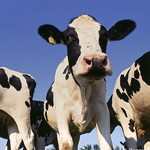 The Summer months are here and the cows have returned onto the Town Moor, but the 'gang' that had gathered on the path at the start of the 5k course didn't phase Tony Carter as he continued his excellent form & ploughed straight through the herd to the front of the field, grazing over the finish line in an udderly superb 16:56… .Well done TC, you deserve a huge pat on the back for your efforts.
Today's race also marked the very first in the Tyne Bridge Harriers parkrun GP series, with 7 Club Runners scoring from this mornings results. There are another 5 races to go in this series, with the best 4 races to count. A separate post with current / overall standings will be made shortly.
Very well done to David Appleby (5th) & Chris Meek (13th), who put in superb performances on their debut race in Tyne Bridge Harriers colours. Also, a special mention & well done to Graham King who was 1st in his age category.
Full results at;
Newcastle parkrun. event 64 – 02/04/11
| | | | | | |
| --- | --- | --- | --- | --- | --- |
| 01 | Tony CARTER | SM20-24 | 16:56 | | 76.18% |
| 05 | David APPLEBY | VM45-49 | 18:29 | | 77.91% |
| 13 | Chris MEEK | VM40-44 | 19:36 | | 69.64% |
| 16 | Rob KIRTLEY | VM40-44 | 19:45 | | 71.22% |
| 25 | Gary WRIGHT | SM20-24 | 20:18 | | 63.55% |
| 37 | Dave YOUNG | VM45-49 | 20:54 | | 68.34% |
| 38 | Graham KING | VM55-59 | 20:57 | | 73.35% |