I have ran this course a couple of times before, and knowing what it has been like on previous occasions, my main concern was how exposed it would be. It has been muddier, but never as windy as it was on this occasion.
The wind was noticeable on the bus journey on the way down, so to take people's minds off it, the lucky dip "bag of doom" was handed around. One of the vending machines at work was out of order and when the engineer turned up to fix it, they discovered, as no one had been in the common room for quite a while, the entire contents were about 2 years out of date. I couldn't let it all go to waste, so filled a carrier bag, and handed it out to the juniors before the race (once parents had signed the disclaimer), but thinking about it, after the race may have been wiser. If they were lucky they got indestructible items like Skittles or Polos, the less fortunate ended up with an Aero or Kitkat that had fared less well over the years of storage within a vending machine.
Anyway, we all survived the bus journey and made the short walk over to the course where no clubs had been brave enough to put a tent up. Arthur Vane made a valiant effort of holding onto our flag for 5 minutes but as it would have had to be left on its own at some stage, we gave up on it as it looked like it was going to take off. Even one of the marquees that Start Fitness had brought, was taken down as it nearly got sent skyward.
First up were the U13 girls in a 3k race, and they probably got the worst of the wind, as it eased off slightly later on in the day. First 3 in were packed very close together with only a few seconds separating them, Naimh Michla in 101st place in 15:00, Alanah Perowne in 103rd in 15:02 and Anna Carr in 104th in 15:04. Run of the day for me goes to Ruby Ditchburn not allowing the wind to beat her, coming 117th place in a time of 17:15. Ruby went back out on the course to encourage the back end of the U13 boys field over the last half mile, as she said she knew how they felt. What a great TBH spirit, and one I felt should be commended. This was the only junior team we completed so congratulations to all the girls for taking part, they were 12th overall.
The U13 boys were up next and Freddie Palmer was first over the line in 30th place in a time of 11:21. Next in was Liam Whitelaw in 90th place in a time of 12:40 with Henry Pickett backing them up in 112th place in a time of 13:46.
Zak Kettle was our only participant in the 6k U17 men's race coming 75th in a time of 25:50 and Fraser Bigg was our only competitor in the 10k junior men's race coming 68th in a time of 37:13 for his 2 large laps.
We then had Ruby Colver as our only runner in the 4k U15 girls race who managed 102nd in a time of 19:52 followed by the same distanced boys race with David Carr finishing 94th in a time of 16:49 and Jake Moir finishing 115th in a time of 17:50.
Then we moved onto the main event, the sandwich competition. Well this turned out to be a very bad tempered affair, with discrepancies highlighted and challenges to rules being made.
A very innovative early entry of vegan pastrami, truffle mayo, gherkins, lettuce and a dash of mustard looked like a clear winner, but alas it had all been put into a bagel. It was a thing of beauty and a sight to behold, but could we accept a bagel as a sandwich ? The strict definition of a sandwich is two slices of bread, so should a club sandwich (a pointless waste of time and mere folly in my opinion) also be excluded from competing? A wrap had won the competition on a previous occasion, so should that result be nullified and an alternative winner sought for that occasion?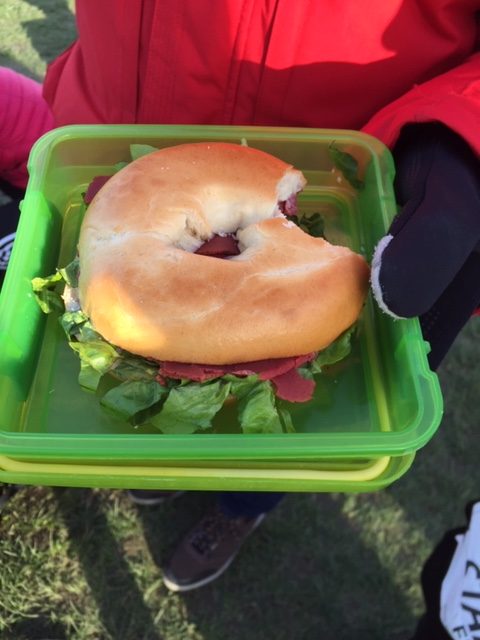 A solid entry of tuna mayo on the first round followed by that well known American recipe of peanut butter and jello on the second was then made. The presentation was delightfully enhanced, in a brand new, sectioned off lunch box, with separate areas for fruit, sandwiches and crisps.
Again, not a sandwich, but I did enjoy watching David Carr attempt to eat a chicken and pasta salad with a lolly stick, because "he's not an animal" you know, and no one had brought him a fork.
The Ditchburns ended the competition, firstly with Ruby and a ham/cheese and BBQ sauce combo followed by Rebecca opting for a far more traditional ham and coleslaw on bread, and I think I'm going to reward tradition and convention on this occasion and give the win to Rebecca.
Well done, not only to the sandwich makers, but to all those who ran. The distances were not as advertised, the senior men were definitely awarded and extra ¾ of a mile, but others were shorter than they were meant to be. The wind was unbelievable, and I'd acquired a new tree in my garden when I got back home.
Still a few chances to get involved in XC before the end of the season, and I really want people out for the Davison Shield / Sherman Cup at Temple Park in South Shields in a few weeks time. Just get in touch if you'd like to take part.
Dave Moir
(Thanks to Stuart Whitman for the photographs. Stuart does sell his photographs so if you want any pictures to print then you can make contact via his website https://www.stuartwhitman.co.uk/)