The North East Harrier League returned with a bang today, serving up it's usual fare of great racing and "interesting" weather.
As I was on tent duty and race management responsibility, I thought I'd turn up with a bit more time than usual but that was quickly consumed by the Krypton Factor-esque (google that one kids) challenge of putting up the tent. Needless to say, I gave up and allowed the real expert (Dave Moir) to right my wrongs.
Numbers named (thanks for the help Leyriane) and distributed we were ready to see what the juniors had in the tank.
First up were the U11 boys. The weather gods decided that we needed a splash of rain and it started just as our youngest athletes were warming up. Luckily, Isaac had the best technique to avoid getting wet: turn up moments before the race, warm-up with a sprint to the start and go seamlessly into the race. We had two boys in the U11 race, Lucas Cassin in 39th place and Isaac Roberts in 51st place.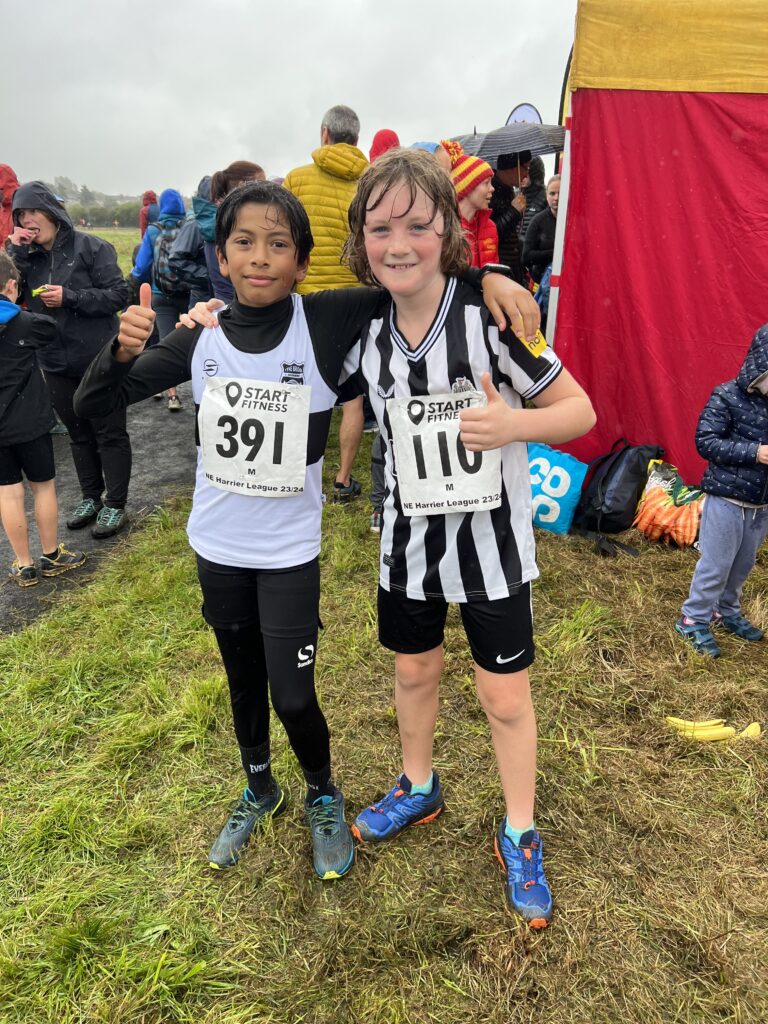 The U11 girls followed immediately afterwards and there is a fantastic squad of girls developing. If they learn from each other they will form a great training group. First home was Eleanor Maxwell in an impressive 7th place. Next was Amelie Bone in 26th, then Cara Ricci in 36th, with Bethan Pickett (45th) and Francesca Miller (46th) enjoying their usual tussle.
The U17 boys were up next with Jake Moir (24th) leading David Carr (27th) home. The standard at this level is truly remarkable; many of them would be counters for the men's teams if they could run in that race.
We only had the one representative in the U17/U20 women's race with Adeline Bourgenot-Lewis coming an impressive 35th. Having only just entered this age category, Adeline has the potential to feature strongly over coming events.
The U15 boys was the first event in which we closed a team (U11s don't run as teams). Jake Parker (23rd) was first home, followed by Joe Whitfield (26th), then Lucas Powell (29th), Joel Tanser put in a fantastic sprint finish to climb to 33rd and Liam Whitelaw came 45th from the fast pack. With three runners resting for the Northern Road Relays, this promises to be an exciting age category.
Hard work and determination paid off for Ruby Ditchburn in the U15 girls race as she came 9th overall and was promoted to the fast pack where she will join Naimah Michla (39th) in future races in the prestigious group of fastest runners.
The U13 boys team achieved a 4th place finish with Jack Whitelaw (13th) receiving the accolade of promotion to the fast pack. Aidan Whitfield (23rd) and Charlie Kilgour (35th) made up the other team counters. Jack McManus (52nd) and Ernie Bigg (58th) were both at the pointy end of the racing and we can expect some great things from these boys going forwards.
The U13 girls completed the racing with a solid 7th place team performance. Jessica Snowball (16th) just missed promotion (you need to be in the top 20% of the field) and will surely see herself achieving this in the next couple of races. Melina Bourgenot Lewis (32nd) and Poppy Colver (38th) closed the team. Eliza Palmer (39th) and Isabelle Gunning (54th) both had strong runs and will look to build on this performance.
PS I was a bit rushed so didn't have chance to take many photos but I'm sure Stuart Whitman's will be out shortly.
PPS Don't lose your number, they're needed for the whole of the season.
PPPS Massive thanks to Paul Colver for taking the junior tent as I had to dash off.