On the 22nd of December, Jake, Zak and David completed a challenge. Our challenge was to run 24 miles in 24 hours. None of us had ever ran this far before but it was for charity, so it was worth it.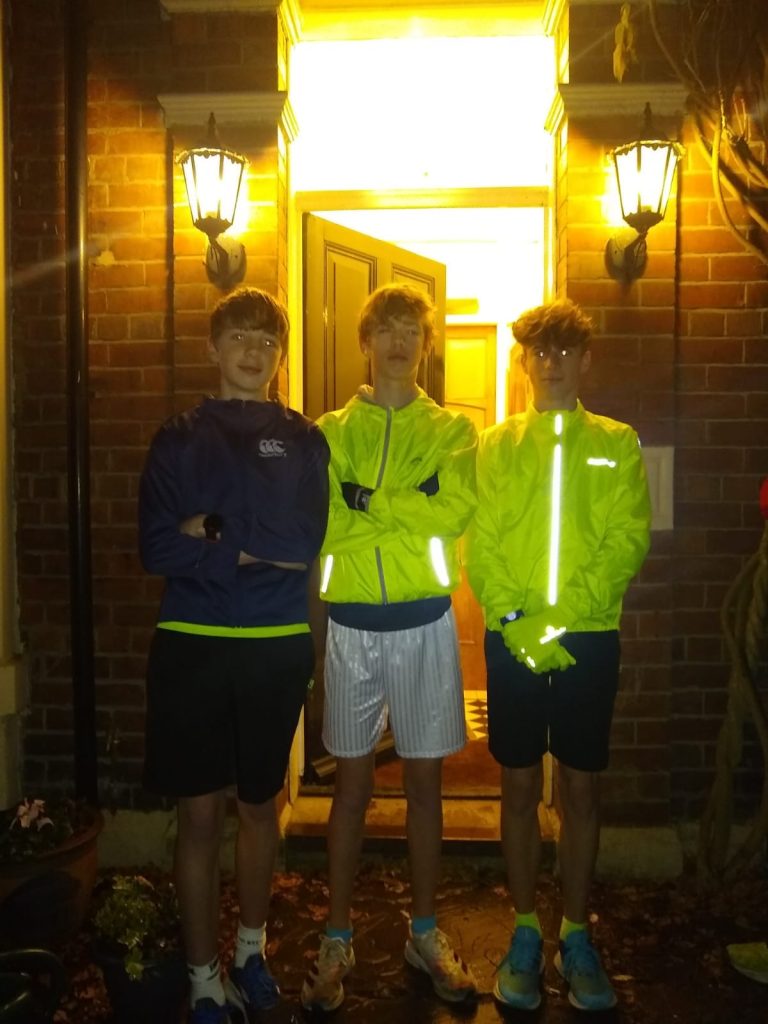 It was an early rise and were ready to race at 8. It was cold and bleak but we managed to run a steady sub 1 hour 10km. At first we were bouncing and excited to pick up the pace, but Dave Moir kept us in check. Learning the route along the way, we completed the first of 4 loops in 57 minutes 42 seconds.
After a long 3 hour rest, and a mars bar from Hope, we set out on our second loop. This second loop felt slightly harder but the time seemed to pass quicker as we recognised the route. By 1 pm we were back in the house and resting once again. Shortly after arrival home, Hope made a superb pesto pasta, which we wolfed down.
At 4pm, the weather had turned for the worst and it began to rain heavily. Reluctantly, we set out on their third 10 kilometre . After reaching the 5k point we started to feel the pain and the pace began to slow. By the end of the third leg we weren't sure how much further we could run. However, we did regain some confidence after a warm shower and an omelette. We then spent the final few hours of rest, preparing for the last leg at 8pm. This involved both mental and physical preparation.
The moment everyone had been dreading came quicker than expected and we found ourselves on our last circuit accompanied by Steve Kettle also. Desperate to finish what we set out to do, we ran through the pains and aches. Shortly, fatigue was setting in again and by the final 3km, we were putting all we had left into the run. We were eager to complete a 4th sub 1 hour 10km and had to push hard at the end to achieve this goal. Once finished we were re-energised by a can of coke and a box of home made sausage rolls.
Throughout the day, we had been supported by friends and family via phone calls, messages and donations. We would also like to say a great thank you to Dave Moir who ran all four loops and still managed to run a junior session! Steve also provided support by pushing us through the last rep whilst it was getting tough.
Many thanks for all the donations and have a merry Christmas and a happy New Year.
Jake, Zak and David.
PS If you still want to donate then you can do so here: https://www.justgiving.com/fundraising/1000-miles-in-24hours