Conditions were ideal for this race, being fairly still, but a little cold. The 5 juniors who were taking part, all broke or set PBs over the distance, and a couple of club records went as well.
Zak Kettle was first over the line, setting 19:50 as an official PB, as he only has parkrun times for the distance.
Zak was followed very closely by David Carr who took a few seconds off his 5k PB, in a time of 19:55 reducing his own U13 boys club record by 3 seconds. In addition, David's time currently puts him top of the 2020 UK rankings for U13s, a fantastic achievement.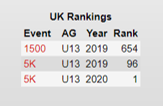 Fraser Bigg was next, in a time of 21:49, breaking his parkrun PB by several minutes.
Jake Moir was close behind, in a time of 22:08 taking about 1:40 off his parkrun PB
Finally Ruby Colver came in, in a time of 25:05 setting her PB for this distance (with no parkrun or PB time to compare) but she is also able to claiming the TBH U13 girls vacant record.
Thanks to all the pacers for their efforts, much appreciated as usual.
Dave Moir