Farewell to the junior's tent – Thornley Hall Farm 9-2-19.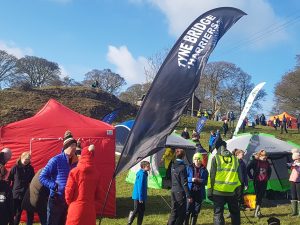 Well the forecasted 40mph winds materialised, and the tent was unable to cope with the strain. She's served us well over the past few years, but I had to put her out of her misery when I got home. Hopefully we will have a new one for the Nationals. The wetter weather this week also played a part in things, with some people getting cars stuck in the parking field, one U13 boy deciding to leave one of his spikes somewhere inside the course, and another taking a full on mud bath.
U11 Boys were first off with Laurence Hattaway having a really strong run finishing in 43rd place in a time of 7:25. This race was followed closely by the U11 girls with Ruby Colver having a storming run, finishing in 14th place in a time of 6:52 partnered by Laura Whitman who finished in 33rd place in a time of 8:02.
Next up was Finlay Dorman in the U17 boys race who gave good account of himself finishing in 20th place in a time of 19:19.
The eventful U13 was the next race to have TBH junior representation. First in was an unscathed David Carr, running from the fast pack in 20th place in a time of 14:10 followed closely by Zak Kettle (also from the fast pack) who lost a shoe early on in the race, but still finished in 24th place in a time of 14:28, closely followed by Jake Moir, who went head first into the first large puddle he could find, in a time of 16:30 in 29th position, The U13 boys are in 8th place in the overall league with 3 or 4 clubs still catchable with 1 fixture left.
The final junior race was the U13 girls race, with Anna Dorman from the Fast pack first home for TBH in 24th place in a time of 15:41, followed very closely by Amber Maynard in 29th place in a time of 17:39
Well done to all who ran, the high winds made it really tough in places.
Dave Moir