The day started off a little cloudy and around 10oC, which lifted a little as the morning progressed, but the promised rain did turn up for our final activity (a medal ceremony) just before we left.
Ruby Colver was first up with the girls U13 800m, setting herself a PB of 3:00.61 and taking the previous club record from Amber Maynard, reducing it by over 9 seconds.
Then it was Jake Moir and David Carr's turn to have a go at the U13 boy's 1500m.  First over the line for TBH was David Carr taking over a minute off Jake's previous record setting a new club record of 5:24.30 finishing in 7th place with Jake following behind in a time of 5:49.03 in 10th place, earning himself a 37 second PB.
Jake followed up the 1500m with a brave attempt in the U13 boys 100m race. The earlier middle distance race was probably still in his legs, as he ended up running 16.36 just outside his PB of 16.00
Ruby bravely also entered the long jump, an event she hadn't managed to practice previously, and gave it a real go being rewarded with a jump of 3.25m, breaking another club record, this time by just 1cm!!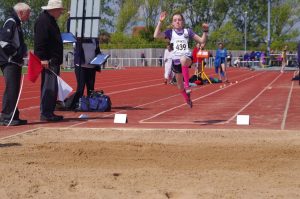 Hope Moir was our next athlete picking 2 events that were very close together in the U15 girl's schedule. She went to the discus call up first and managed to get her first throw in before having to nip-off to run the 200m in which she set a club record of 35.41. Quickly heading back to the discus she then set a club record of 14.84m and finished in 3rd place, also claimed a bronze medal.
Importantly,  the Colver sandwich report included Cheese and Cheese, along with Cheese, Ham and Onion Pickle.  The Moirs went for Quorn (other myco-protein meat substitutes are available) and wholegrain mustard on brioche baps (Ed – this isn't just a brioche bap, this is a Moir brioche bap!).
Dave Moir