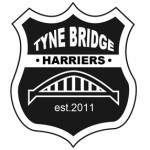 Formed in January 2011, Tyne Bridge Harriers are a North East Running Club based at East End Pool in Byker. We are affiliated to the Governing body for athletics in the United Kingdom, UK Athletics and meet on Tuesday and Thursday nights for training sessions from 18:00, with an aim to start running by 18:30. The club also hosts a Beginners session on a Wednesday evening (East End Pool, 18:30 – 19:30) and a session for Under-16's, which takes place at Newcastle High School for Girls (Jesmond) between 18:00 – 19:00 on Wednesday evenings.
The club has both male and female runners and welcome all abilities. New runners are always welcome. We currently have 5 different training groups; from fast paced runners to slower runners / beginners & those returning from injury. Whatever your ability, you will be welcomed and our experienced Coaches and Trainers will always look after you.
You can always come along to give it a try, in fact we recommend that you do this for several sessions before you make any decisions to join. Training sessions are free to try out so you have nothing to lose.
If you have any questions about joining Tyne Bridge Harriers or you would like further information, please contact us
Tyne Bridge Harriers 2020/21 Committee (Roles to be decided)
Vicki Deritis
Paul Hilton
Ian Pickett
Alasdair Blain
Becky Parkin
David Daniels
Morag Kerry
Claire Norman
Dave Moir
Gemma Finnie
John Tollitt
Matt Walker
Paul O'Mara
denotes that this club member is qualified from the
Run England Leadership In Running Fitness
Coaching Course in association with
The Tony Blair Sports Foundation
.
For more information about this course, click here
Non-committee roles:
Team Manager : t.b.d.
Welfare Officers : t.b.d.
Appeals Committee : To be appointed as required
Mental Health Ambassadors : t.b.d.
Gallery